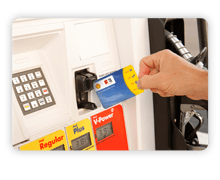 MY FUEL REWARDS.............
apparently I have other rewards preloaded on my card from when I signed up..........blog post HERE
When you are at the pump, you'll insert your FRN Card or participating grocer's reward card first to lower your price. After you follow the relevant prompts, insert your payment method and dispense up to a maximum of 20 gallons of fuel per purchase, per vehicle. If you'd like to pay inside, hand the cashier your rewards card before you attempt to fill up so that they can lower the price at the pump for you.
If you asked us to mail you an FRN Card after you created your account and didn't receive it, click here to send us an email to let us know.

If you created your FRN Account using your grocer's rewards card, then you can also swipe that card at the pump to redeem your rewards.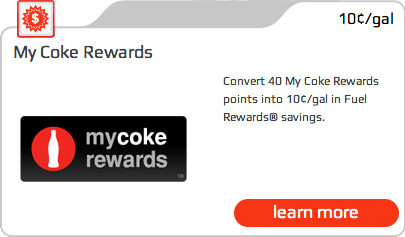 TODAY I went to cash in points and found.........
MY COKE REWARDS 40 points equals save 10 cents a gallon on gas at SHELL stations
I did the 40 points (not sure if you can stack these?) but I checked my account and i have $1

.50 off per gallon...........
may

try to get another 40 points for another 10cents off a gallon but I have to wait until FEBRUARY as the rules say "
Limit one conversion per MCR Member, per month"
My points

expire on JANUARY 31 , yours may too? check your balance and expiration dates NOW......... before the disappear!
the closest station to my house is
1300 Anderson Hwy
on county line road........
I thought that was a texaco but apparently not........
SHELL FUEL REWARDS: Use the FRN Card to earn in the Shell™ Fuel Rewards program with your purchases at Shell convenience stores.

DINING: The FRN Card is not necessary to earn rewards when you dine out, so you don't need to show it. When you enroll in the dining program and register the credit and/or debit cards that you'd normally use when you dine out, your rewards will automatically be credited to your FRN Account.

eCOUPONS: The FRN Card is not necessary to earn rewards with eCoupons. To earn rewards with eCoupons, link your eCoupon card (grocer rewards card or drug store rewards card) to your FRN Account, and scan it at checkout before you pay.
You can redeem your rewards with your FRN Card or your grocer's rewards card.

Insert your FRN Card or your participating grocer's rewards card before you pay at the pump and watch your price drop.
APPARENTLY you can add your grocery card and go out to eat and earn some points too............ CREEKSIDE GRILL (in powhatan participates ) so .............. go check it out and sign up for the best price on gas I

have been able to get in AGES!