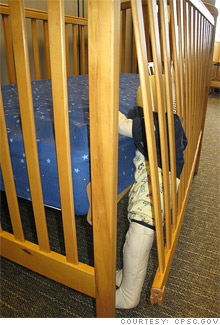 STORKCRAFT.COM
2,100,000 cribs to be recalled.
entire story and photo credit: http://money.cnn.com/2009/11/23/news/companies/crib_recall/index.htm
"About 1.2 million of the cribs have been distributed in the United States and 968,000 units distributed in Canada.The recall includes about 147,000 Stork Craft drop-side cribs with the Fisher-Price logo, the CPSC said. The cribs were sold at major retailers including Sears and Wal-Mart and online at Amazon.com and Target.com between January 1993 and October 2009. The CPSC said the cribs' drop-side, which is attached with plastic hardware, can detach unexpectedly and create a space between the crib wall and the adjacent mattress. Infants and toddlers can become trapped in the space and suffocate or fall to the floor, the agency said."
"parents are being told to stop using the cribs immediately and go to the company's website, www.storkcraft.com, to receive a repair kit. "
Visit Stork Craft Web Site for more Info or call the company toll-free at (877) 274-0277
Now even the crib industry says cribs with drop-down sides no longer meet their industry safety standards. And the CPSC is currently working on mandatory federal regulations. But the legislature in Suffolk County New York isn't waiting. It recently banned the sale of drop side cribs starting in February. The retailer Toys R Us is no longer selling cribs made with this feature. "We cannot have a crib that takes the lives of infants out there on the market for unknowing consumers," Witte said
anjie note: I think the majority of issues has a common factor .........plastic hardware parts or partial plastic hardware. they are saying no matter what kind of dropside crib you may have that you should stop using the "drop down" feature immediately and if you are shopping for a crib look for NONE DROP DOWN CRIBS.................if you can't afford that make sure you have NO PLASTIC HARDWARE PARTS .